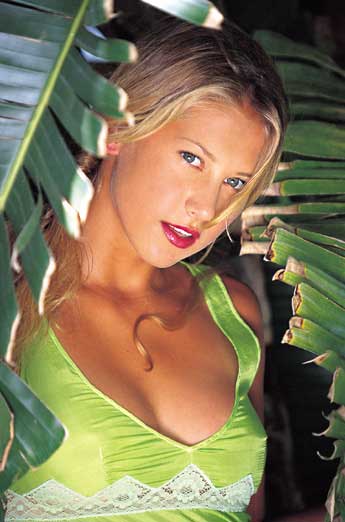 (Source : Inside Sport)

She is the most keenly watched player in the world. Her beauty, talent and poise have proved irresistible. Anna Kournikova, both Russian and American, is a phenomenon of the post-Cold War era. She took time out for an interview during her exclusive photoshoot for the December issue of Inside Sport.



--------------------------------------------------------------------------------
IS: Where does your competitive streak come from?
Anna: I was born with it. Everything in life is a competition.
IS: Who were your heroes as a young girl?
Anna: I admired many players. Monica Seles, Boris Becker, Andre Agassi.

IS: Is it starting to concern you that you haven't won a tournament on tour?
Anna: No, not really. All I can do is play my best. I feel I always have a chance in every tournament and that my time will come.

IS: Which grand slam title would you say you have the best chance of winning?
Anna: I think I have a chance in all of them. Not one in particular. I just need to play my best.

IS: What would mean more to you: winning a grand slam title or an Olympic gold medal?
Anna: A grand slam title.

IS: We hear a lot about rivalry among the top women players. Who do you most enjoy beating?
Anna: I enjoy every win that I have. Every win gives me satisfaction, because all the girls are competitive and the tour is so even and tough.

IS: Do you still call Russia home?
Anna: Of course. It's where I was born, where I grew up. But I love America, too.

IS: If you had to lose either your tennis ability or your looks, which would go?
Anna: Ah, I would keep both.

IS: Do you think you would ever go out with another tennis player?
Anna: Why not? I wouldn't say that couldn't happen. I would have to go with my heart, you know?

IS: Do you feel other women players resent your beauty?
Anna: No. I haven't felt that.

IS: Do you feel other players try harder against you because of all the attention you attract?
Anna: No. I feel all the players try their hardest against everyone, every match they play.

IS: You seem a very happy person. Do you have enough killer instinct to reach the top?
Anna: Oh, definitely. I want very much to do well. I have always been very competitive. I smile, yes, but that doesn't mean I don't want to win.

IS: Is there time for a boyfriend in your life?
Anna: There's time. But he would have to be understanding. He would have to understand that often I will be travelling and playing.

IS: What qualities do you appreciate in a man?
Anna: Honesty, strength, blond - oh no, then all the boys will dye their hair. He just has to be gentle but strong, with a big heart. He has to know what it takes, how hard it is to succeed.

IS: What are your main interests away from tennis?
Anna: Shopping, the beach, eating - especially chocolate.

IS: Who are your favourite bands?
Anna: Really I just love to hear music on the radio, the music of the moment.

IS: Do you believe men's tennis is boring?
Anna: No.

IS: What's your favourite TV show?
Anna: Friends.

IS: When you were in Australia two years ago, you apparently asked to meet "the blond one" - Shane Warne. Why did you want to meet him and what was he like?
Anna: He was very nice. The whole cricket team was nice. But I don't think it was that I had to meet "the blond one". I think somebody asked ME to meet him.