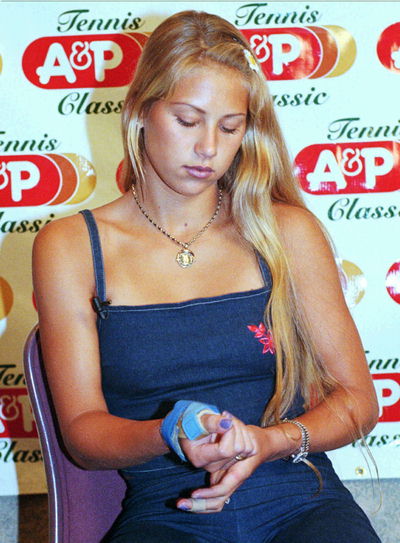 Tale of a Russian beauty who also plays tennis
The Tomes of India
By Sukhwant Basra

May 26, 2001



NEW DELHI: Anna Kournikova's not quite 20, but she's certainly a 10. She's not the most educated player on the circuit, but she's probably as quotable as Oscar Wilde. (One of her more famous one-liners on herself: "It's like a menu: They can look, but they can't afford it.") She's not won a major singles title till date, but has won a million hearts (mostly male!).

The 1998 People Magazine proclaimed her amongst "50 Most Beautiful People". Of late Anna's moved up to No. 54 in the 2001 Forbes Power list which measures celebrity power vis-a-vis their visibility in the media.

Run a Google search for Anna Kournikova and you'll get no fewer than 202,000 results- her image remains one of the most popular on the Internet - and recently inspired a Kournikova-dubbed computer virus. Phew! And we haven't even started talking about her tennis yet!

That rubs many other players the wrong way - spectators come to see Anna, not her tennis. In her recent book Hidden Side of Women's Tennis, Nathalie Tauziat writes, "everybody in women's tennis plays their hardest so they can beat her and prove her looks are useless." Well, isn't that what we all want - to see some good quality tennis, no matter whether it is inspired by on-court or off-court rivalry? Not that its affecting Anna a whole lot: "I'm trying to look feminine," she explains. "Why should I have to look ugly just because I'm an athlete?"

Anna's tryst with tennis began at the age of five in Moscow when her father, himself a wrestler, took her to play in a weekly tennis sports program. Her parents, Sergei and Alla had to sell off their TV to buy the little girl a racquet.

A natural athlete, she improved rapidly and was spotted at the Kremlin Cup in 1991 at the age of nine by a sports agent who made her the agency's youngest signee. She was offered a place at the Nick Bollettieri Tennis Academy in Florida and a luxury apartment for herself and her mother.

The family took the harsh decision of splitting, with Sergei staying back in Moscow earning around $35 a week as a teacher in the Russian Physical Culture Ministry. The gifted Russians flair was recognised instantly by Nick Bollettieri who says, Anna is a shotmaker. She has the ability to create situations on the court that very few people can create. And at the net she's brilliant. She hits volleys from all angles.

"The only person I could compare her to is John McEnroe," says Bollettieri, brave words coming from one of the most successful coaches in tennis. Anna ended 1995 as the ITF Junior World Champion ranked No.1, and she turned pro the same year. The next year she was voted the most improved player by the WTA when her ranking rose to 57.

In 1997, she became the second woman in the Open Era to reach the Wimbledon semifinals in her career debut. Ever since 1997 she's been ranked in the top 25.

Her off-court achievements have been almost as noteworthy. An alleged affair at 16 with NHL athlete several years her elder, Sergei Federov, elicited this response from her: "He wishes." When the brazen young Russian was informed of the legal implications of dating at 16, she replied, "This year, I'll be 17, and I've been told that's the legal age in New York. So I can do whatever I want. At this year's Open, I'll have five boyfriends."

She has raised the bar Agassi set for showmanship; Anna is the real thing. She loves the limelight and loves the show courts, says Billie Jean King, a player of yesteryear.

Along with the penchant for the centrestage, however, comes a pinch of narcissism. Another former player, Pam Shriver remarked that Anna was wearing out the mirror in the womens locker room by staring at herself so much. "I can't help it if other players don't want to look good," Kournikova retorted.

On being asked by Jay Leno in an interview about her sexy micro-mini skirts, she coquettishly replied, "It's not that my skirts are any shorter than other players; my legs are longer. You cannot disagree with that, can you?"

Success has brought with it the small matter of three million dollars in prize money and probably double of that in endorsements and other such trivial issues. The going rate for an interview with the young woman is not a cent less than $100,000, which brings us to the question, Does she really deserve all this? You bet she does- the fact that she is eighth in the world in singles and third in doubles is perhaps overlooked in all the hype that surrounds her glamourous personality.

She was named as the 1999 best female doubles player in the world and the day is not far when she wins a major singles title and gets that monkey off her back. Even Sachin Tendulkar took about 90 odd one day internationals to score his first one-day century! Until then, one cannot but agree with her favourite saying: "I am beautiful, famous and gorgeous."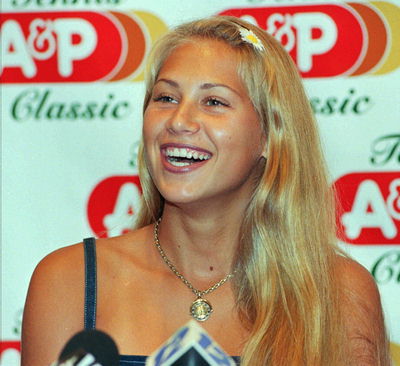 OMEGA launches the Constellation Carre Gold, with Anna Kournikova!
www.ipan.com
Rohit Bal fashion show in Paris to showcase OMEGA's new collection

May 24, 2001



New Delhi, May 24, 2001: OMEGA launched 'Anna Kournikova's choice', the Constellation Carre Gold in an Indian environment in Paris last evening. The famous Parisian bar Man Ray was transformed into a magnificent catwalk, providing a platform to showcase the seductively elegant OMEGA Carre, and the flamboyant designs of one of India's greatest designers, Rohit Bal.

The rich combination of the OMEGA Carre and Bal's designs, were showcased in a brilliant whirlwind of gold and embroidery, by Sheetal Malhar, Madhu Sapre, Ujjwala Raut, Nyonika Chatterjee, Ruchi Malhotra, Vidisha Pavate, Meher Bhasin, and the hottest names of the Indian modeling scene. The highlight of the glamorous evening, however, was the grand entrance on the ramp by OMEGA brand ambassadress Anna Kournikova- in a dress made for her by Bal, and the gorgeous Carre Gold 'My Choice'!

The bewitching aroma of incense and captivating musical atmosphere at the Man Ray, allied to the beauty of Anna Kournikova who wore on her wrist, the new OMEGA Constellation Carre Gold Blue. Over three hundred crème de la crème of Parisian society, including French model Adriana Karembeu, actress Emma de Caunes, singer and TV icon Ophelie Winter attended the enchanting OMEGA event.

The magical evening in Paris was described by Stephen Urquhart, President OMEGA International as, "the perfect reflection of the universe of OMEGA, allying luxury, creativity, and emotions". The fashion show was followed by a glittering party at the Man Ray, with the highlight of the evening being the charming Kournikova. The tennis star is the most recent addition to the OMEGA family of brand ambassadors. Mr. Urquhart added, "Anna fits in with the OMEGA philosophy. She performs with precision and stamina on court, yet remains the epitome of style and elegance off court. With OMEGA as well, our precision movements are encased in contemporary style and classic elegance-a winner combination."

Ever since its creation, the Constellation collection has epitomised the creative link between timeless elegance and modern chic. The new Constellation Carre ladies watch collection is enriched with four highly fashionable gold models with mother-of-pearl dials in gold-yellow, silver-grey, pink and violet. The smooth, fabric-covered leather straps match the colour of the dial, with a gold buckle rounding off the elegantly trendy look.

This uncompromising quality, with its stylish and contemporary combination of precious materials and seductive style, made the new Constellation Carre in gold, "Anna's choice". Presented in an Indian environment, the stunning watch collection showcased with creative clothing designs and the most glamourous of people, made for an unforgettable OMEGA-evening in Paris.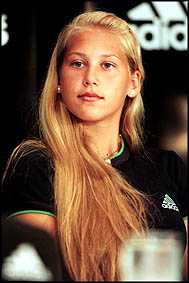 New advertisement deal brings in millions for Kournikova
USA Today
March 20, 2001


Another deal for Anna


Anna Kournikova is in it as well. As of Monday, Russia's tennis glamour girl will be involved in a promotion deal with the popular Internet Search Engine Lycos.

A deal which makes sense. No other female sports professional is searched for nearly as much as Kournikova. What would be considered more interesting for a Search Engine, than contracting this cute Russian?

According to "USA Today", Anna Kournikova will earn some 21 million Deutsch Mark over several years for her engagement.

In spite of not having won a WTA tournament, the 19-year-old is among the best paid female sports professionals in the entire world. Yearly, she cashes more than 20 million Deutsch Mark.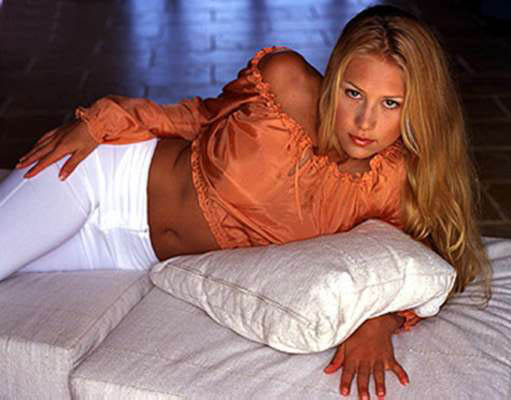 Anna named for a computer virus
02/13/2001 - Associated Press


Asia has backhanded the Anna Kournikova computer virus. With a day to prepare, companies in Asia were ready Tuesday for the e-mail clogging virus that promised to deliver an electronic photo of the blond teen-age tennis star. The virus failed to infect as many computers as it did in Europe and the United States. Australia was hit hardest, with an estimated 100,000 computers infected by the e-mail. However, other governments in Asia reported little or no impact. 'It was much worse in the U.S. because by the time Asia came to work, major companies had cleaned up the systems,'' said John De Riso, Taiwan spokesman for California-based Trend Micro. The latest virus comes as an e-mail attachment named ``AnnaKournikova.jpg.vbs'' and carries the message ``Hi: Check This!'' When the user clicks on the attachment, the virus is released, worming its way into address books and sending itself to everyone on the list, clogging e-mail servers. The e-mail does not actually contain a photo of the tennis star. The Anna bug originated in the Netherlands, said Ben Guthrie, spokesman for the antivirus company Symantec Corp.